Muscatine

High School




Class Of 1970
Welcome to the Muscatine Senior High Class Of 1970 web site. This is our Web Page, and we can do with it what we like. Please let everyone know about this site that you think would like to participate. If you know someone email address and just want to pass on that information, we can make the formal invite for you, just let us know thru the Contact Us page
We have lost a classmate: Jenni Frenchhas passsed away.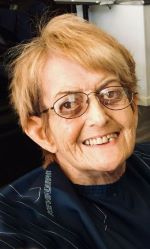 Jennifer "Jenny" French
April 26, 1952 - June 19, 2019
MUSCATINE, Iowa - Jennifer Beth "Jenny" French, 67, of Muscatine, passed away on June 19, 2019, at her home.
A Celebration of Life and burial will take place at a later date. The Ralph J. Wittich-Riley-Freers Funeral Home is in charge of the arrangements. Memorials may be made to The Almoner Fund, to be distributed by the Muscatine Community Services in Jenny's name. Online condolences: www.wittichfuneralhome.com
Jenny was born on April 26, 1952, in Marion, Indiana, the daughter of William and Patricia McGrew French.
She worked at Snackers where everyone in town knew her, and then at Goodwill, which she also loves since she enjoyed clothes and fashion. She was very artistic and at one point, taught art at the Phoenix House. Jenny enjoyed drawing pictures, painting and was very creative through her life.
People who knew Jenny valued greatly her excellent sense of humor, and her predilection as a punster. She was known to everyone to have as the sweetest temperament despite her difficult life.
She is survived her sister, Nancy Erroll French Lunning of St. Paul, Minnesota and her son, Chance Patrick Lunning; and Robert Lunning; her brother, Peter Daniel French and wife, Jevne Diaz-French, of Baltimore, Maryland and their children: Moira Diaz-French and husband, Steve Alvarez, and their daughter Alice, and Lucia Diaz-French and Tim Carlson; and Jenny's close friend, Michael Nortman.
Jenny was preceded in death by her parents.
In case you hadn't noticed we now have more than 50% of eligible classmates that have joined the site. This was our goal when we started the site in 2010. We need to set a new goal of 60%. So whenever you see a classmate form MHS 1970 give them this address Muscatine70.com and tell them to join!
ANNOUNCEMENTS
Doing retired guy stuff and going through my Mom's old stuff - Here's the Programs from our Graduation ceremonies. Not sure I saved this.

I was proud my Dad gave the Baccalaureate Sermon, but anyone remember what he preached? I don't remember, but I believe it had to do with us Keep Resisting and to seek Justice, Love Kindness and Walk Humbly.

I posted the scan on my page