In Memory
Linda Talkington (Nelson)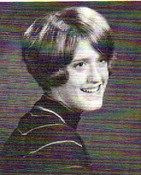 Linda (Talkington) Nelson, 44
Born: August 31, 1952
Died: September 23, 1996
Mrs. Linda L. Nelson, 44. of Spotsylvania County, VA died suddenly on September 23 at Mary Washington Hospital.
Born in Iowa, she worked as a registered nurse at Culpeper Memorial Hospital.
She was a member of the Nurses' Association.
Survivors include her husband, Andrew H. Nelson, a son, Andrew Scott Nelson at home. a daughter, Sarah kathleen Nelson at home, her mother, Alice Talkington of Muscatine, IA, a brother, Paul Talkington of Des Moines, IA, a sister Kathleen Estabrook of Muscatine, IA and numerous nieces and nephews.
A funeral will be held at 10 A.M. Saturday at Mullins & Thompson Funeral Services, Spotslvania Chapel. Burial will be private.
The family will receive friends from 7 to 9 P.M. Thursday and Friday at the funeral home.
The family requests that expressions of sympathy take the form of contributions to a favorite charity.