In Memory
Craig Sauer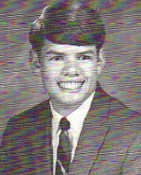 CRAIG SAUER, 53
Born: November 12, 1951
Died: September 7, 2005

MUSCATINE, Iowa: Craig Allan Sauer, 53, of Muscatine, died Wednesday, September 7, 2005.
Graveside service will be 1:00 p.m. Tuesday, September 13, 2005, at Soldier?s Section in Greenwood Cemetery. Pastor Shelley J. Nelson of the Ziegler Memorial Lutheran Church will officiate. Burial will be in Greenwood Cemetery with Military Rites provided by the combined squads of the American Legion Post 27 and the V.F.W. Post 1565.
The Ralph J. Wittich-Riley-Freers Funeral Home is in charge of the arrangements and there will be no visitation. Memorials may be left to the American Legion and the V.F.W.
Craig was born on November 12, 1951, in Muscatine, the son of Danforth and Betty Silberhorn Sauer.
He was a veteran of the US Navy where he served as a SEABEE during the Vietnam Conflict.
He worked at REC as a journeyman lineman.
He was a member of the American Legion Post 27, Moose Lodge No 388, IBEW and the Ziegler Memorial Lutheran Church.
He loved to garden and fish. He was an inventor and held one patent.
Survivors include one son, Neil Sauer of Wilton; one daughter, Jennifer Duggan and husband Robert, of Muscatine; his parents, Danforth and Betty Sauer of Muscatine; two brothers, Scott Sauer and wife Jane, of Muscatine, and Barry Sauer and wife Janis of Wilton; and one sister, Vicki Hampton and husband Terry, of Dumas, Texas.