In Memory
Steve Rock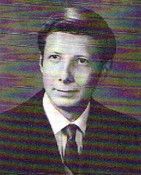 Steven Craig Rock, 21
Born: 7-25-1951
Died: 10-20-1972
Steven Craig Rock, 21, 1308 First Ave, was dead on arrival at Muscatine General Hospital at 5:45 p.m. Friday from a heart ailment.
Services will be held at 3 p.m. Monday at the Geo. M. Wittich Funeral Home. Burial will be in Memorial Park Cemetery. Visitation will be held from 2 to 9 p.m. Sunday.
Steven Rock was born July 25, 1951 at Muscatine, the son of Walter B. and Angeline Globes Rock. He was a member of the Calvary Baptist Church and had been attending Muscatine Community College. He had never married.
Surviving are his mother at home; two brothers, Eugene F. and Dennis R. Rock, both of Muscatine; four sisters, Mrs EDward (Angeline) Marshall, Davenport; Mrs Leslie (Walyne)Whitmer and Mrs. Darrell (Linda) Troxell, Muscatine; Mrs Howard (Diana) Fowler, Atalissa; and his grandmothers, Mrs Ethel Globes and Mrs Hattie Rock both od Muscatine.
He was preceded in death by his father and two brothers.