In Memory
Larry Rick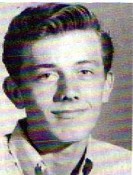 Larry James Rick, 16
Born: December 21, 1951
Died: November 20, 1968
Larry James Rick, 16 year-old Muscatine High School Junior, was killed at about 4:45 p.m. Wednesdaywhen his motorcycle hit the front fender of a grain truck at the intersection of Grandview and Pearl Street.
Rick the son of Mr and Mrs. George Rick, 116 E. 10th St, was thrown to the pavement. He was pronounced dead on arrival at Muscatine General Hospital.
Muscatine police said the truck driven by Floyd C. Aegerter, 60, WEst Branch, who was traveling north on Grandview Avenue and turning west onto Pearl Street. Rick was traveling South and witnesses told police the motorcycle headlight was not illuminated. No charges were filed.
LArry was born Dec 31, 1951, in Muscatine, the son of George and Ardis Lowe Rick. He was a member of the high school wrestling squad and was a member of the Muscatine Junior Bowling Association. Because of his participation in wrestling, there is a Larry Rick Memorial Trophy given in his honor yearly at Muscatine Senior High.
Larry was a member of the Wesley United Methodist Church.
The body is at the George M. Wittich Funeral Home where friends may start calling this evening. Services will be held at 1:30 p.m. Saturday, at the Wesley United Methodist Church with Dr. J. Henry Teele officiating. Interment will be at Memorial Park cemetery.
He is survived by his parents; one brother, G. Edward Rick at Home, and his grandparents, Mr and Mrs. J. Vernon Lowe of Muscatine and several uncles and aunts.