In Memory
Silvin Reed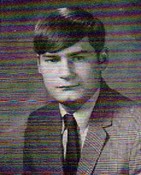 Silvin L. Reed
Born : August 8, 1951
Died: August 19, 1990
Silvin L. Reed, 39, of 2903 Allen St. died Sunday at the Mayo Clinic in Rochester, MN
Services will be Wednesday at 11:00 a.m. at the St. Mary's Catholic Church. The Rev. Charles Gannon will officiate. Burial will be at Greenwood Cemetery. Visitation will be from 2 to 8 p.m. Tuesday at the Geo. M. Wittich Funeral Home where a memorial has been established. A Rosary will be recited at 7:30 p.m.
Mr. Reed was born Aug 11, 1951, in Muscatine, a son of Richard and Louise Smith Reed. He was a life resident here. On Oct 30, 1971, he was married to Sherry Lee Hager in Muscatine.
Survivors include his wife, Sherry; three sons, Silvin L. Jr, Erick R. and Kraig T. all at home; two brothers, Rick and Allen, both of Muscatine and one sister, Mrs Leroy (Anita) Maylone, of Muscatine. His parents preceded him in death.
He was employed for nearly 20 years by Model Laundry as a Sales and Route Supervisor. He was a member of St. Mary's Catholic Church, a member of the Knights of Columbus and a member of the Muscatine Moose Lodge.
He was very family and athletically oriented, was active with the Muscatine Little League, where he was a member of the board of directors.
He sponsored the Muscatine Wrestling Club and the Muscatine Football Club. He was a member of the muskie Booster Club. He was a avid bowler and a member of the His and Hers Bowling League.
He was a huge Chicago Bears Fan.
He was a graduate of the class of 1970 Muscatine Senior High and Muscatine Community College with an associate of arts degree.