In Memory
Denis Krueger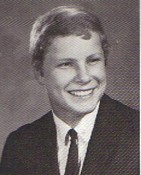 Denis Gene Krueger, 22
Born: August 11, 1952
Died: June: 30 1975
Funeral services will be held at 3 p.m. Wednesday at the Geo. M. Wittich Funeral Home for Denis G. Krueger, 22, Moscow, who was killed in an accident Monday at Wendling Quarries.
Krueger will be buried in Memorial Park Cemetery, Muscatine, visitation will begin this evening.
Krueger was born Aug 11, 1952 in Muscatine County to Irvin C. and Fern Morrison Krueger. He married Regina L. Scherrer Mann on Feb 28, 1975.
Krueger attended the Spangler Chapel and was a member of the Moose Lodge.
Krueger is survived by his wife; a step son, Kris Mann, at home; his brothers, Donald W. of Vancouver, British Columbia and Billie I. Muscatine; and his grandfather, Donald Morrison, West Liberty.