In Memory
Roger Estabrook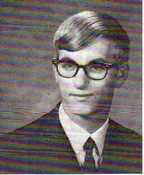 Roger Wayne Estabrook, 42
Born: Jan. 4, 1952
Died: March 5, 1994
Roger Wayne Estabrook, 42, died early Saturday, March 5, 1994, at his home at 2350 Gas Light Square, Lot No. 3.
Services will be at 11 a.m. Tuesday at the Geo. M. Wittich-Lewis Funeral Home. Florence Hetzler will be organist. Pallbearers will be Thomas Jones, Jim Warren, Orren Lee, Tom Fullerton, Ron Ryan, Nick Pauly and Obert Liles. Burial will be at Greenwood Cemetery.
Visitation will be from 4 to 8 p.m. today at the funeral home where a memorial has been established.
Mr. Estabrook was born Jan. 4, 1952 in Muscatine to Lester and Maxine Hidlebaugh Estabrook. He was a life resident of the area. He was previously married to Debra Watson.
He enjoyed watching sprint cars and hunting and fishing.
He had previously been employed at Bandag Inc., where he worked for 20 years. He worked at Precision Steel in Wilton and most recently sold Watkins and Avon products.
Survivors include two daughters, Tammy Estabrook of Morning Sun, and Rebecca Estabrook of Wapello; two grandchildren, Rickey and Andrew; his mother Maxine Estabrook of Muscatine; and two brothers, Ronald Estabrook of Marshalltown, and Harry Estabrook of Muscatine.
His father preceded him in death.